Cleaning Services in Fayetteville
The "college town" of Fayetteville, Arkansas is a truly unique community, and often surprising to those who don't expect such an eclectic, innovative, environmentally aware city to be found in the heart of the nation. Quickly becoming known as the "Startup City of the South", new businesses are drawn to the area like nowhere else in Arkansas. J&M Commercial Cleaning Services welcomes these growing companies and is here to ensure each Fayetteville business isn't just clean, but sustainably clean.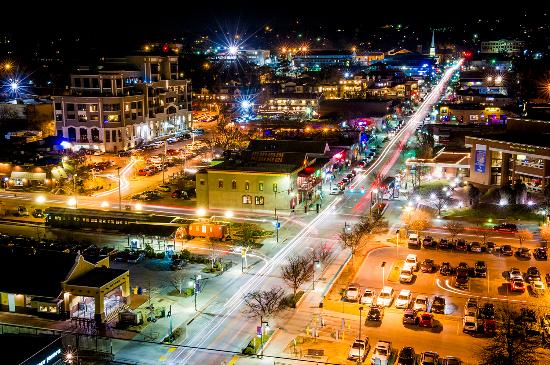 Joe and Melanie, natives of the Northwest Arkansas area, understand the eco-friendly needs of a business in this creative town. Not only to the citizens look to the future to vitalize the community today, they are Southerners with a strong inclination to be neighborly. J&M Commercial Cleaning Services meet these requirements with efficiency, dedication, and honest hardworking staff.
Our staff is vetted and bonded, fully background checked, and drug screened. Everyone we employ is someone's family member, and when they join our team, they become our family, too. Because we know our staff is dedicated and passionate about making the world a cleaner place, we are confident you will come to rely on us for all your commercial cleaning needs.
Friendly and punctual, our crew will arrive at your site and get the job done right the first time. Working in pairs, the cleaning staff at J&M make quick work of every cleaning situation in a variety of commercial settings. Two staff members at the site ensures your business of double the accuracy in half the time. It's the attention to details that make our staff stand out and keeps your space clean, healthy, organized, and inviting to customers and your employees.
Our motto is "We Take Care of You", and we mean that. No matter how big or small your company may be, we have a cleaning solution to handle it, and we'll do it at a fair and reasonable price, with no hidden fees. Neighbors helping neighbors help a community grow and flourish, and at J&M, we pride ourselves on building strong business relationships that last.
Office buildings, medical centers, financial institutions, post-construction sites, fitness centers, and childcare/daycare facilities all depend on our reliable crew to make quick work of each maintenance cleaning or deep cleaning situation. Utilizing our low-moisture carpet cleaning system featuring certified green disinfectants and cleaning solvents shampoos carpets up to 3000 sq. feet in just one hour! Because we use the low-moisture carpet cleaning system, your carpets and rugs will be dry just as quickly.
When you schedule a walk-through appointment, our staff will listen to your needs, and make relevant and responsible suggestions. There's no high-pressure sales from silver-tongued marketing department; just an honest and reliable janitorial and commercial cleaning company that aims to earn and keep your business. We let our work speak for itself, because we know that personal endorsement from satisfied clients is better than any flashy ad campaign.
Don't hesitate to set up an appointment for your walk-through, because from now until September 30th, we are offering all new clients 2 free carpet cleanings with scheduled cleanings twice a week. Our hospital grade eco-friendly disinfectants will leave your site with a light enjoyable fragrance that's never overpowering, so your customers and staff can breathe easy while enjoying an environmentally responsible cleanliness that lasts. Don't forget to Like us on Facebook and follow us on Instagram and Google+.